Throughlines
The Dark Horse
This week we take a look at James Napier Robertson's The Dark Horse—a wonderful independent film out of New Zealand that excels in the narrative space.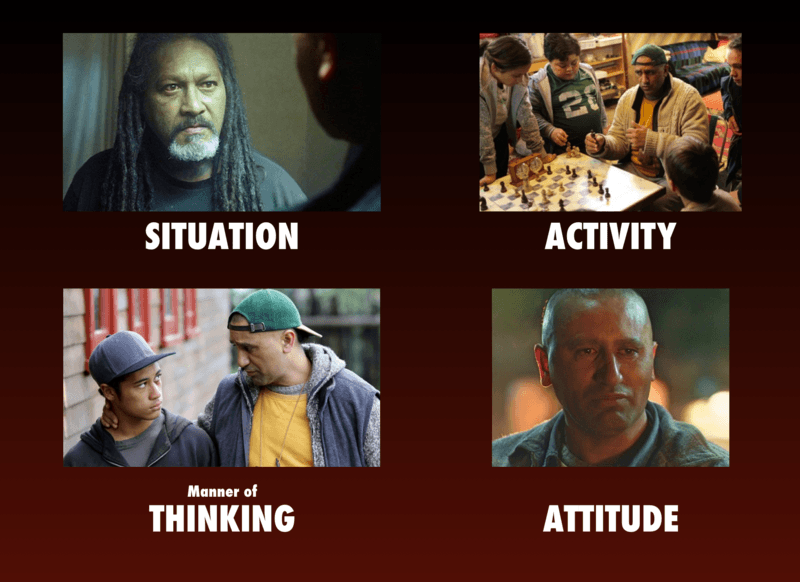 The Throughlines of The Dark Horse
Main Character Genesis (Cliff Curtis) battles his own mind, while simultaneously fending off the harsh and critical opinions of others. Conflict bred from Fixed Attitudes drives him to talk to himself when agitated and walk peacefully through heavy rain in order to numb his overwhelmed senses.
As Protagonist, Genesis wants to help the underprivileged kids in his community find something positive to do with their lives. While some appreciate Genesis and the other facilitators attempt to engage the children in positive Activities, there are some within the Objective Story Throughline who prefer their young not to be entranced by fanciful dreams.
One of these staunch detractors is Ariki (Wayne Hapi), brother to Genesis and father to Mana. Father and son both hand off the Influence Character Throughline as they challenge Gen's positive mental attitude. Ariki and Mana feel themselves stuck in gang culture without a future to look forward to. Their depressed Situation defines them, and Ariki's declining physical condition forces Mana's rapid indoctrination.
Family serves as the focal point for the Relationship Story Throughline. The relationship between Genesis and Ariki as brothers and the relatinoship between Genesis and Mana as uncle and nephew strain as each try to convince the other of their particular Manner of Thinking. Ariki has played father to Genesis for long enough and the time has come for Genesis to take his place—if he can muster up the right amount of courage.
The Dark Horse is one of those films that reminds you why you became so enamored with cinema in the first place. The power to hear stories told with rich visuals and sophisticated captivating performances is an honor and a privilege for those of us who find these rare gems. There is a reason The Dark Horse ranks so high among critics and audiences alike—a solid, meaningful storyform tells a story of hope and kindness amidst difficult and depressed times.
See The Dark Horse. And make sure you tell three others to do the same.
The Four Throughlines of
The Dark Horse