To celebrate this week's final publication of the official analysis of Sideways, I thought we could take a look at the Throughlines of this Academy Award winning screenplay.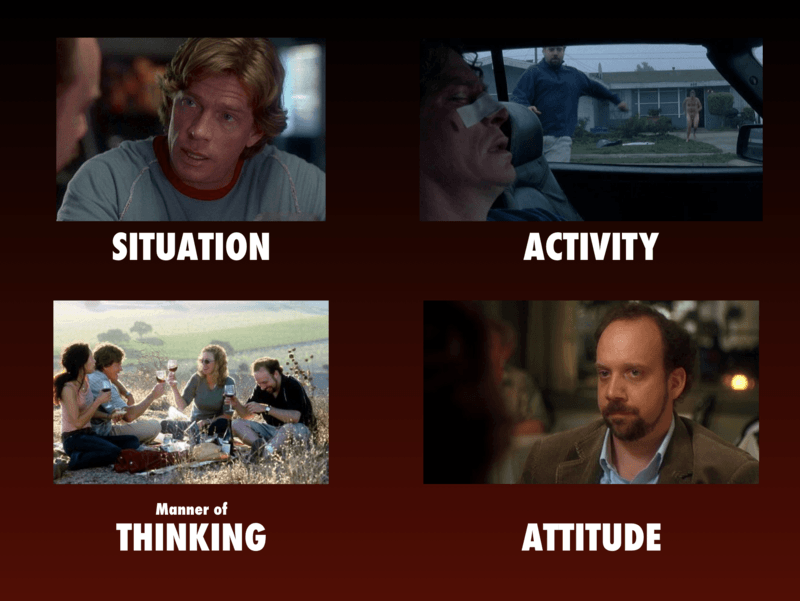 The Throughlines of Sideways
A failed writer living a pitiful existence in San Diego California, Main Character Miles Raymond (Paul Giamatti) struggles with depression from a two-year old divorce. His troublesome Fixed Attitude not only makes it impossible for him to move on emotionally, but also perturbes those he comes into contact with.
The most perturbed is his friend Jack Cole (Thomas Haden Church). A compulsive womanizer stuck in an imminent marriage, Influence Character Jack tries desparately to help Miles break free as the lech struggles with his own disparate Situation.
The wine trip before the wedding stirs up conflict with heated debates over various Manners of Thinking. Manipulating and womanizing locals and pretending like everything is OK back home brings everyone together in the Objective Story Throughline. Miles and Jack aren't the only ones suffering through this: Jack's future wife, Maya, Cammi, and even Miles' ex-wife Vicki struggle to maintain their composure through this psychological romp up the countryside.
The friendship between Jack and Miles takes up the rest of the narrative. The typical bachelor-party antics and Activities the two suffer through defines the Relationship Story Throughline. Where the Objective Story focuses on the inner psychology of people coming into conflict over different ways of thinking, the Relationship Story centers on the very real pain and physical suffering involved in cheating and cavorting through the countryside.
Including being chased out of a house by naked middle-aged man.
Be sure to check out this week's article Predicting Who Will Listen to Your Story as Sideways features prominently in it.
The Four Throughlines of
Sideways