The Manual
Introduction and Installation
Subtext offers a ton of features designed to help you create the most meaningful story ever in the shortest amount of time. This Manual will show you how to get up and running in a few hours.
Subscribing to Subtext
Begin by starting your subscription. Subtext is a service in continual development, better and more powerful than the day before. Your subscription ensures that this development continues—a win/win for everyone who cares about great storytelling.
You can start and stop at any time with the click of a button, and your subscription lasts through the end of your period (month or year). Learn more about Subscribing to Subtext.
Installation
The first thing you should know about installing Subtext is that you don't have to install Subtext.
Subtext is a universal web app--which means ANYONE can use it.
Any device with a modern web browser can access and use Subtext. This means you can use its powerful tools for developing a story with any iPhone, any iPad, any Surface tablet, or Windows PC, or Android or Pixel and so on and so on…
One of our primary motivations for building Subtext was to make it possible for PC users and non-Mac users to have access to these powerful tools for writing WITHOUT having to buy a brand new computer.
So yes, you can use Subtext on a PC.
(Though you'll probably want to use the latest version of Chrome or Microsoft Edge, as Internet Explorer tends to be a bit behind on the times.)
Installing Subtext as an App
Still, there may be times when you would rather have instant access to Subtext without having to fumble around in the browser. For those instances, we offer Subtext as a PWA (Persistent Web App).
The concept is simple: with a few simple clicks, you install Subtext in its own permanent little browser container--separate from all your other sites. On mobile devices, you'll find an icon that upon tapping, will take you straight to the application. On the desktop, you'll find an application listed amongst all your others, ready to open at a moment's notice.
Opening Subtext with Command + Spacebar
Installing Subtext on a Mobile Device
From anywher within Narrative First or Subtext, click on the Share button for your browser (with an iOS device, this button appears as a square with an arrow pointed up).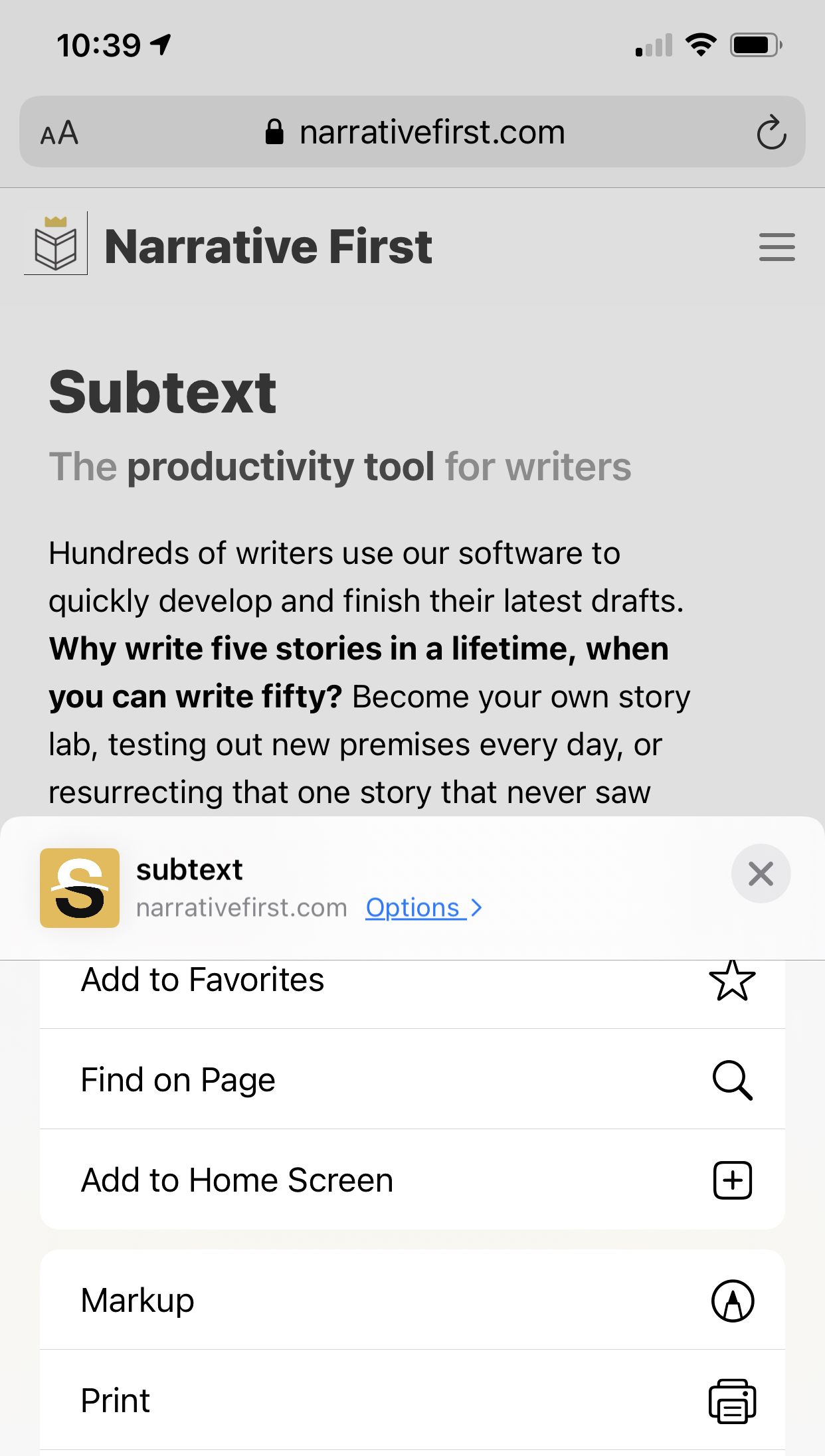 When presented with the above options, choose "Add to Home Screen".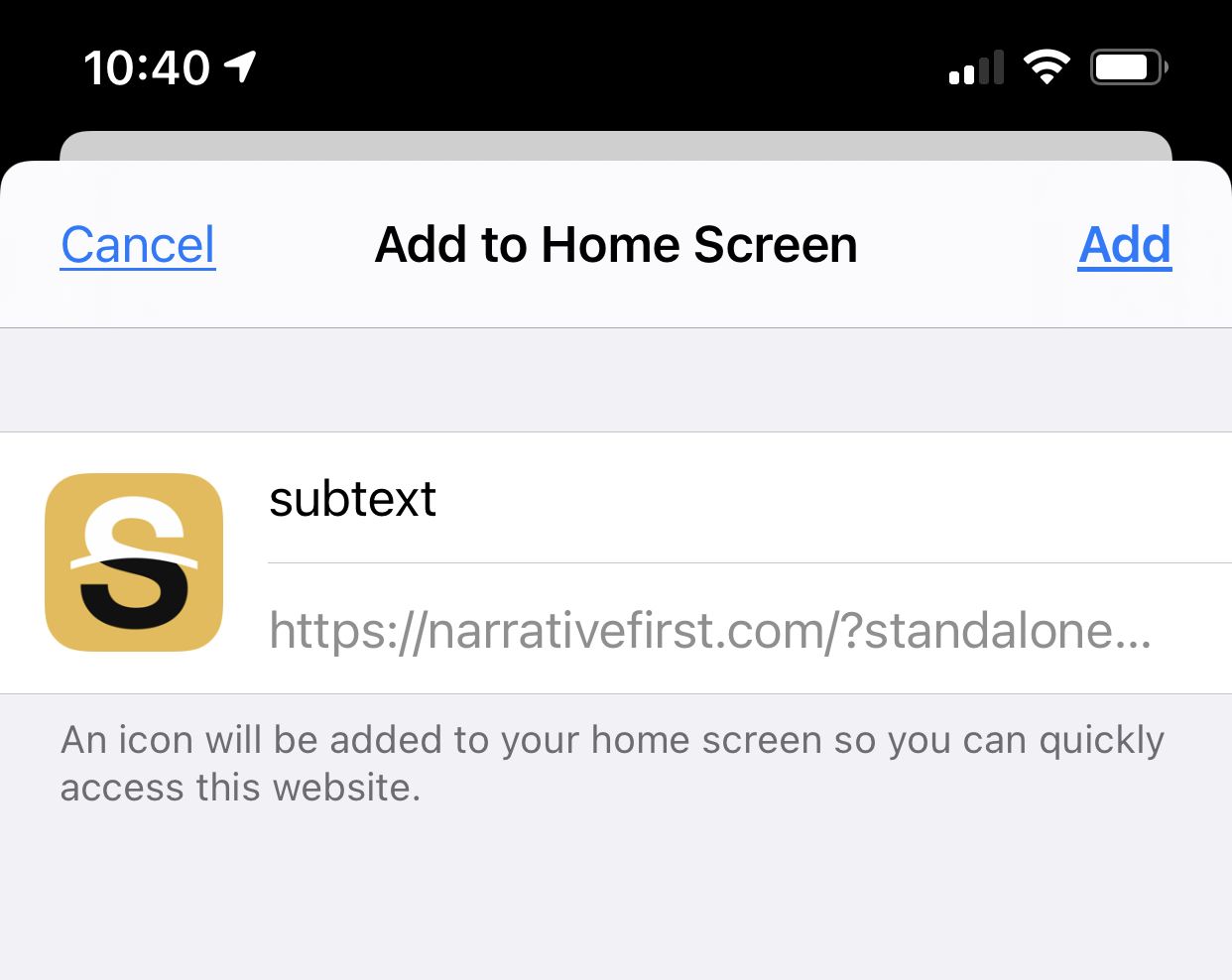 Confirm that you want to install Subtext on your device, and tada! 🎉 Instant app: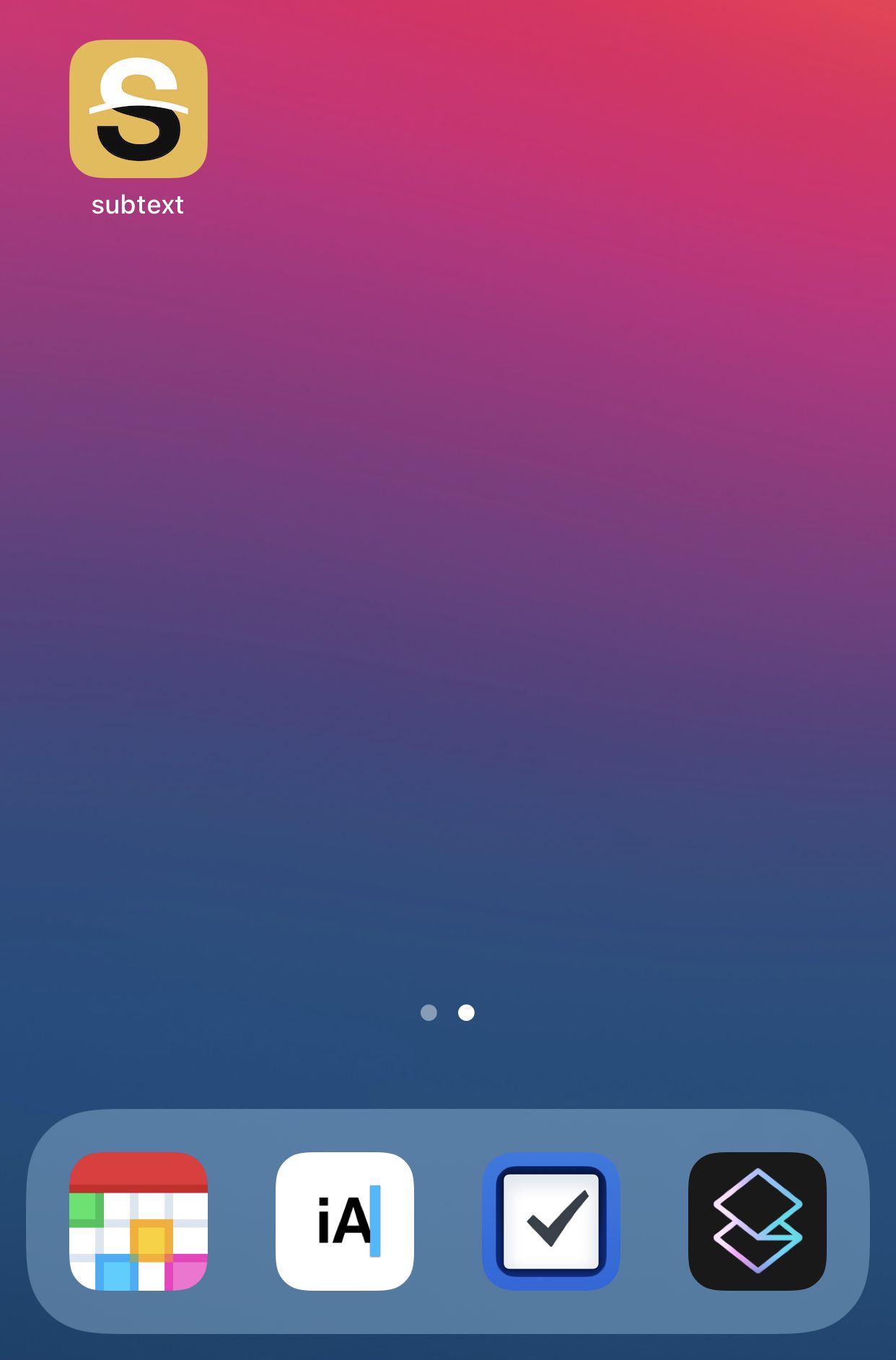 Installing Subtext on your Desktop
The procedure for adding Subtext to your desktop is similar, with just a few slight changes. Make sure you open Subtext in a browser that supports Chromium features (like Google Chrome). Then, tap the arrow button within a circle located at the far end of the URL entry bar.
Confirm that you want to install Subtext, and boom! 💥 App installed: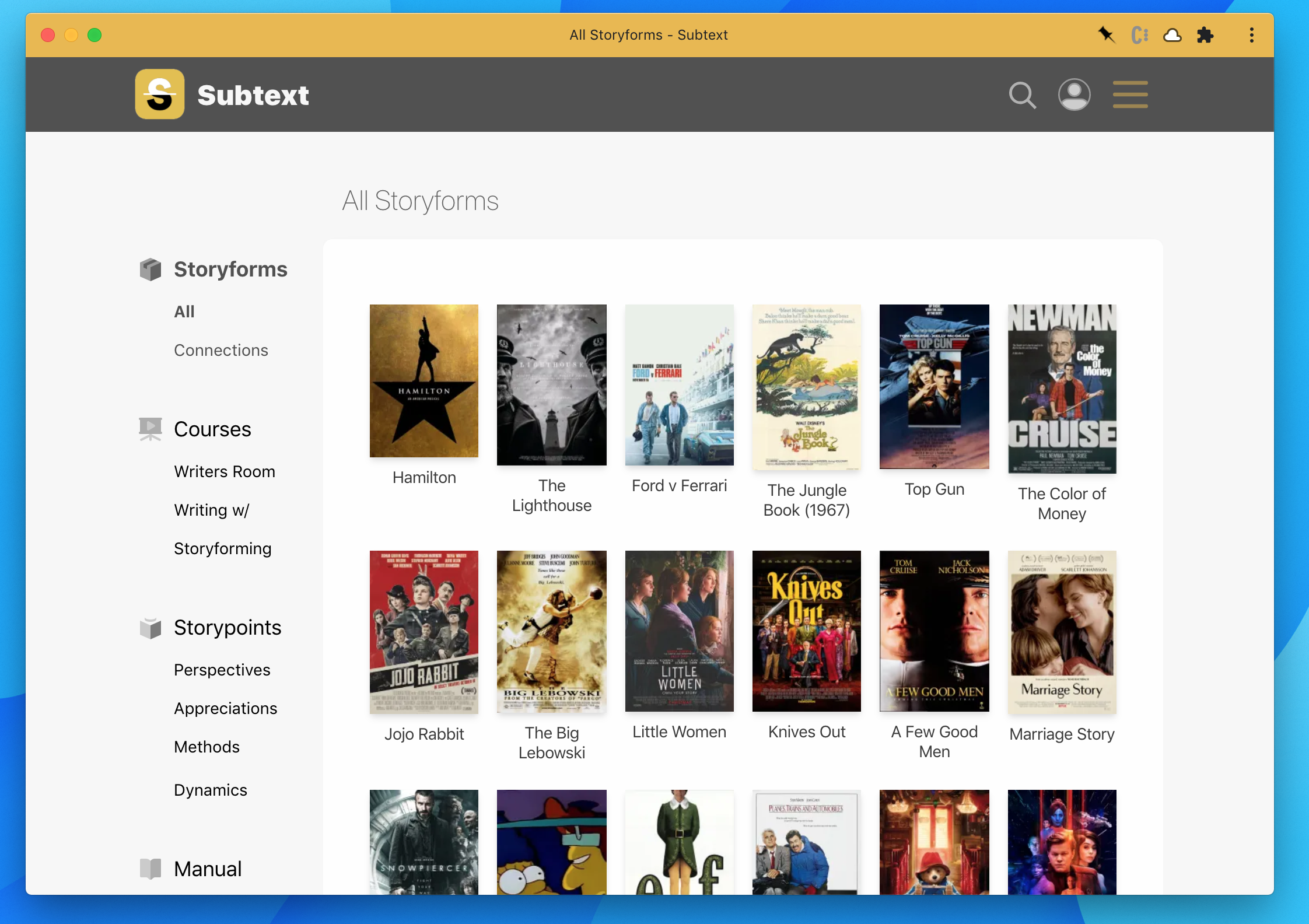 Removing Subtext from your System
You can remove and delete Subtext from any device, by following the usual instructions for removing an app. Note that while the application may disappear from your device, Subtext does securely store your story information (in case you decide later to rejoin). If you want everything permanently removed, please contact us directly.