Series of Articles
Patterns of Conflict
The basis of genre in the positioning of narrative inequity
Writing great conflict into your stories is as simple as finding the context for an inequity, for without context there can be no conflict. Thankfully, the Dramatica theory of story offers writers several different ways to understand and create effective conflict. This multi-article series will reveal to you patterns of conflict you never knew existed.
A Conflict Unlike Any Other
A complete story sources conflict from four different distinct areas.
Every engine needs a fuel source. Without a constant supply, the mechanism sputters and fails, eventually coming to a rest dormant and forgotten on a dried plain. How does one keep the bristling and shiny furnace of story steaming down those tracks?
Through conflict.
Stories live and breathe conflict. Even the most rudimentary explanations of stories understand this. Consider this common insight that defines this essential ingredient as
the problem faced by the characters. Conflict happens when characters are against each other, like teams in a game or two groups fighting on the playground.
But when it comes to crafting a story's unique personality that sits apart from all the others, that delves deep into the inner psychological needs that audiences crave, an Author needs to understand in detail the forces that craft that conflict.
A Definition Apart
One of the greatest aspects of the Dramatica theory of story rests in the precision with which it tries to quantify the molecular level of story structure. This accuracy develops a level of trust unheard of in other competing paradigms or schools of thought. In a recent QnA with Dramatica co-creator Chris Huntley, the common concept of conflict gets a thorough evaluation:
Conflict is the product of effort to resolve an inequity as it meets resistance. We look for conflict as we attempt to identify an inequity's source(s). If we neglect to look in all the possible places conflict can exist, we open ourselves (and the story) to missing the entirety of the conflict and a true understanding of the inequity, leaving the real likelihood of failing to resolve the inequity thoroughly. So, all four perspectives and all four domains must be explored in order to understand the nature of an inequity and the nature and source(s) of conflict generated by trying to resolve the inequity.
Four Ways of Looking at Conflict
The four perspectives Huntley speaks of were well known before Dramatica. First person, third person, first person plural and third person plural. I, You, We and They. As explained in more detail within the article Writing Complete Stories, these four contexts have found their way into stories via the Main Character (I), the Influence Character (You), the Relationship Story (We), and the Objective Story (They) Throughlines.
Hearing this for the first time, one might think Well, that seems right, but I'm not sure... Rest assured, there is a reason why these four throughlines appear in complete stories.
Ever heard the idea that "One man's terrorist is another man's freedom fighter." This enlightened understanding of the world around us can offer much needed appreciation of why some stories simply feel more whole than others. How else can one truly be sure they are crafting a balanced story if they leave out one side of the argument? Authors need to inspect an issue from every direction--the four Throughlines.
And yet, while these four perspectives may be relatively familiar to most, it is what they are looking at that is unique to Dramatica's understanding of story.
Four Areas That Define Problems
A situation, a fixed attitude, an activity, and a thought process. Think of a problem and it MUST fall into one of these categories. Racism? That's a fixed attitude. Unjustly accused of killing your wife? That's a situation. Wiping out an alien race? Definitely an activity. Brow-beating your wife. That's a thought process you might want to reconsider. Regardless of what problem an Author invents, it will fall into one of these four areas.
When an inequity hits the world of story, the forces that conspire to resolve it have no idea where the conflict is coming from. It could be an activity, it could be a fixed attitude...the structure of a story simply can't figure out where the inequity lies--at least, not without some level of inaccuracy. This reality gives us a clue as to why Dramatica calls for all four areas of conflict to be present in a complete story. This is why Huntley states:
If we neglect to look in all the possible places conflict can exist, we open ourselves (and the story) to missing the entirety of the conflict and a true understanding of the inequity
Cover all four areas where problems can exist and like the advice to include all four perspectives, An Author can insure that their story ends up well-balanced and completely argued.
There won't be any story "holes".
The Chart of a Story's Personality
At the top level of Dramatica's Model of Story sit the four Domains, or areas of conflict.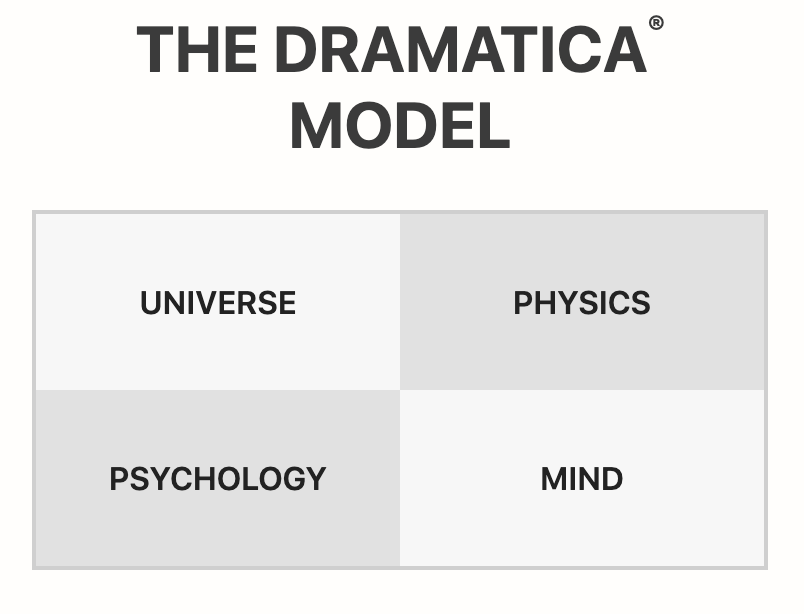 These four Domains reflect the Mind's classification of those four problem areas:
Universe describes a situation
Physics describe an activity
Psychology describes a thought process
Mind describes a fixed attitude
The top row depicts external problems; the bottom row internal problems. Universe and Mind classify static problems; Physics and Psychology problems of process.
The way one can begin to fully understand why a story feels the way it does (and why some feel more similar than others) is by applying the four Perspectives--or story Throughlines--to these four Domains. Any combination is acceptable save for one rule: the Main Character and Influence Character Domains must be diagonally opposed to each other. Why?
Clichés with Purpose
The Influence Character's primary purpose for being in a story is to compel the Main Character to deal with their personal issues. The very best way to do this is to give the Influence Character enough of the same kinds of issues do that the Main Character begins to sense that this new character offers an external reflection of themselves. This is where the common cliché of "You and I are both alike" comes from.
If the Main Character's problems lie in Universe and the Influence Character creates problems because of Mind, well then you have enough of a similarity between the two that growth can occur. Universe describes something externally stuck. Mind describes something internally stuck. Both are static ("You and I are both alike.") The line of dialogue that usually follows, "We are nothing alike" occurs because, while they both describe something fixed, one is external and one is internal. They are not completely alike.
This occurs in the animated film How to Train Your Dragon. Hiccup, the Main Character, finds personal trouble in his physicality, or Universe. He is a 98lb. weakling in a tribe of manly Vikings. "You just pointed to all of me," refers to those issues. Because this is a father/son movie, Hiccup's father Stoick assumes the role of Influence Character. Using the above rule from Dramatica, the Influence Character must be in a diagonally opposed relationship to the Main Character on the structural chart. This puts Stoick in Mind and helps define the kind of impact he'll have on Hiccup.
Stoick. Stoic. Even his name confirms the placement!
Interestingly enough, later on in the film Hiccup has the "He and I are both alike" moment, but uses it to describe his relationship with Toothless, not his father. While it helps explain Hiccup's motivation for freeing the beast, its use outside of the norm tends to suggest that there should be even more exploration of their relationship beyond simply dragging sticks in the sand. It implies that there is still growth to be had in the relationship between them, when at that time their relationships was already rock solid.
Genre as a Tool
Dramatica considers this personality level of story structure--the Domain level--to be the most accurate and productive way to quantify Genre. Netflix, Apple TV, Blake Snyder and John Truby think of Genre in terms like Thrillers, Romantic Comedies and War Dramas. But beyond a handy shopping list of storytelling patterns, how truly helpful are these concepts in determining the scope of what it is an Author is trying to say? How helpful are they in balancing the story's points of view? At best they identify the patterns. They never answer the question why?
Everyone agrees that a story must have conflict. And while everyone also recognizes the necessity of seeing all sides of an argument, only one theory of story needs it for meaning. Dramatica moves beyond this reality by helping an Author build solid concrete arguments. With Dramatica, Genre becomes a tool for infusing personality into a story, rather than a simple cataloging device.
Familiar Patterns of Story Structure
Exploring the same kind of conflict within a narrative results in a common structural conceit.
The types of conflict within a story carry with them a unique narrative code, much like the genetic code within DNA. And just as a different combination of certain genomes determines the eventual type of human they're responsible for, the mixture of these dramatic narrative forces decides the personality of a story.
But why is it that some stories seem to have the same personality? If built on such complex genetic code, how do they all end up feeling the same? Avatar was just Pocahontas, which itself was Dances with Wolves which itself spawned The Last Samurai and possibly Fern Gully. Regardless of the setting, all of these stories feel the same. While most would attribute this similarity to Campbell's monomyth, the truth of the reality is there is something deeper and more purposeful going on.
Explorations of Similar Areas of Conflict
Earlier in this series on conflict, we explored the four major areas of problematic conflict as outlined by the Dramatica theory of story. Whether it be Universe, Physics, Psychology, or Mind, a problem must find a home somewhere within this chart.
In addition, we discovered that a successful Author attaches the four major Throughlines to these areas in an effort to effectively cover the entire scope of what it is they are trying to say with their story. Main Character, Influence Character, Relationship Story, and Objective Story. Four Throughlines, four general Areas of Conflict. Put a throughline in each area and the story will feel complete.
Attach them in a similar pattern to other stories and the stories themselves will begin to feel strikingly familiar.
Covering Familiar Territory
Where an Author decides to focus the conflict in their story defines the personality of that story. A popular combination, especially in Western culture, has the Main Character in Universe, the Influence Character in Mind, the Objective Story in Physics and the Relationship Story in Psychology. Why? Chances are the prevailing gender behind most Western film (i.e., men) find it more comfortable placing a conflict they don't understand (Psychology, or thought processes) in a throughline they generally don't get (Relationships).
But that's just a guess.
Regardless, the films listed above all follow this same pattern. They feature a Main Character who is essentially a fish-out-of-water or a stranger in a strange land (Universe - a problematic situation). They find a strong-willed native defined by what they believe (Mind - a problematic fixed attitude). This belief forces the Main Character to grow, to reconsider how they approach things. Naturally, the two develop a Relationship that involves changing the way they both see things (though more often than not, focusing only on changing the Main Character's thought process). And all this happens against the backdrop of evil colonists consuming and devastating a peaceful landscape (Physics - a problematic activity).
More than myth, these films sharpen their lasers of dramatic focus upon the same targets of conflict.
But what if we moved beyond simply focusing on the descriptive commonalities of setting and storytelling, that of the "white" colonist in a strange native land, and instead focused our attention on the types of conflict within each throughline. Would other popular American Western-culture films follow the same patterns of conflict?
A Pattern Not So Far Far Away
The perennial classic Star Wars follows this same pattern. Luke Skywalker finds conflict in Universe--farm boy stuck at the outer edge of the galaxy. His Influence Character Ben Kenobi, the one responsible for motivating Luke's personal growth, sits directly across from him in the Genre chart. Mind defines Old Obi Wan--his belief in the Force and its power to transform lives shows no signs of wavering.
In this respect, Ben's impact on Luke calls to mind the same dramatic forces found in How to Train Your Dragon. As explained in the article A Conflict Unlike Any Other, Hiccup's diminutive status (Universe) found great resistance in his father's strict mindset (Mind). But unlike Stoick in that Viking epic, Ben's Mind in this space opera is a positive influence. This is yet another example of how Dramatica's take on story structure refuses to dictate how to tell a story point. It does suggest the thematic substance of the story point, but how it unfolds, positive or negative, rests in the talent of the individual Author (as it naturally should).
Looking at the other two Throughlines, Star Wars continues to follow the same pattern. The main story, or A story line, centers around the Physics between the bad and the good--stealing plans, storming diplomatic ships, shooting lasers, blowing up planets--all interstellar conflict defined by activity.
In the other corner sits the Relationship between Luke and Ben and that common exploration of Psychology. Beyond Luke's issues with where he is and Ben's attitude towards the Force, the conflict between them adds that key missing ingredient needed to make the story complete.
Often, when viewed within the context of a relationship, this special corner of the Genre chart looks more like Manipulations rather than merely Psychology. Technically, they all mean the same thing, but due to the fact this is a problematic area of the chart for many Authors to understand (the aforementioned Male half of the population), the shorter definition eases the comprehension.
Ben manipulates Luke to think the way the old wizard does: be one with the mystical ways of the Jedi Knights and you too can do miraculous things. These manipulations define the tension in their relationship and offer the final cornerstone that completes the story's exploration of the inequity.
The Matrix Within The Matrix
As with the constant comparison between Avatar and Pocahontas, many compared The Matrix to Star Wars? When we first met Neo, many likened him to Luke Skywalker. Morpheus looks like a modern-day Obi Wan. Again, Campbell was often the center of such conversations, but those discussions were missing the trees for the mystical forest.
Like Luke, Neo finds conflict in Universe--he is the One and doesn't want to be. Like Ben, Morpheus believes strongly in one thing: in this case, that Mr. Andersen is the savior he has been waiting for. Instead of space battles and laser-sword fights, The Matrix features kung-fu fighting and over-the-top gun battles. Yet, still all found under the umbrella of Physics. And finally, like Luke and Ben, the relationship between Morpheus and Neo is one of manipulative Psychologies ("Free your mind...").
Beyond simply aping a sequence of "mythical" story beats, the writers behind The Matrix managed to assimilate the exact areas of conflict found in Star Wars. That familiar feeling between the two is more than the stuff of legend, it is quantifiable dramatic focus.
Fortune Cookie Patterns
This popular pattern extends into the animation sector of modern American animation. Like Star Wars, The Matrix and How to Train Your Dragon, Kung Fu Panda focuses its areas of conflict on similar problems. Po's Universe? Beyond his obvious weight issues, Po is the son of the Noodle Soup king--nowhere close to his dream of fighting alongside the Furious Five. Shifu's Mind? Unlike Morpheus and Ben, this Influence Character believes wholeheartedly that Po is NOT the one. Their Relationship? This time it's Po trying to do the convincing, in addition to the traditional changes to thinking that come from a mentor. And finally, the Objective Story? More kung-fu fighting and mayhem spurred on by an evil Villain.
The Commonality of Conflict
These repeated patterns of Genre explain why all these films have a familiar ring to them. Regardless of subject matter, stories explores the same KIND of conflict. Their Main Characters deal with problematic situations (Universe), their Influence Characters strict attitudes (Mind), their Relationship between those two characters deals in manipulations (Psychology) and finally, their Overall Stories deal with problematic activities (Physics).
Want to create a similar feel to these films? Set up a similar construct with your own story. Want to create something different, something a bit off the norm? Mix and match the throughlines into a different combination that an Audience won't expect. As always, there is nothing wrong with one particular structural base, only options for Authors who wish to infuse their stories with meaning and purpose.
Not-So Familiar Patterns of Story Structure
Shifting the conflict experienced by the Main Character into a different area creates a unique kind of story.
Crafting a story that examines conflict from a different angle challenges the expectations of an Audience familiar with the same old thing. While some prefer to see the templates of commonality within story, the real key to unique storytelling lies in understanding the power of perspective.
The last two articles in this series on Conflict introduced the idea of the Four Throughlines and the Four Major Areas of Conflict. By attaching a Throughline (or perspective) to one of these areas, an Author sets up the personality of the story. The article Familiar Patterns of Story Structure covered the prevailing structural arrangement, or personality, found in most American films. Why do Star Wars, The Matrix, Die Hard, How to Train Your Dragon and Avatar seem familiar? Beyond beat sheets and mythical stages, these films focus their storytelling on the same kind of conflict. This similarity guides them into the same structural Genre.
The Main Character finds themselves personally faced with a problematic situation (Universe). The Influence Character by his or her fixed attitude (Mind). The Relationship between the two revolves around their problematic ways of thinking (Psychology) and the Objective Story examines problematic activities as a whole (Physics).
But what would happen if we simply flipped the Main Character and Influence Character positions? Would it feel any different than the films listed above? The Objective Story Throughline would still lie in Physics so it shouldn't make a difference, right?. There would still be the usual kicking, stealing, fighting, grabbing and killing. But what if the Main Character was suddenly facing a problem of Mind, rather than a problem of Universe like their status in life or physicality?
What would that film feel like?
Casablanca and the Main Character
For starters, you might end up with this 1942 classic that many consider one of the best films of the 20th century. Like Star Wars, The Matrix, Avatar and Kung Fu Panda, Casablanca focuses its Objective Story Throughline on Physics. How else would one categorize the problems found in hiding stolen exit visas and escaping the clutches of evil Nazis? And like most action films, both the Main Character and Influence Character in Casablanca find themselves in a battle over how each other thinks (Psychology). If only Ilsa could convince Rick to change his mind about her and about those visas, perhaps things could work out for them.
And this gives us a bit of a clue as to why Rick's Throughline fits better in Mind, rather than the Universe area of conflict. Rick has no problem with the way he looks, with where he is living, or his status within Casablanca. What Rick does have though is a very bad, very sour attitude. "I stick my neck out for no one," tells of a rather opinionated Main Character. Most importantly though, is that this opinion creates major problems for him. It is where he will have to do the most growing as a character.
What about Ilsa as a Universe Influence Character? Besides being the most beautiful woman in the world (which certainly has an impact on poor Rick), Ilsa's status as the wife of a selfless freedom fighter gives Rick's bad attitude a moment of pause. How can he keep this facade up when this person stuck in an untenable position is willing to give of herself for others?
As you can see, this structural setup has a slightly different personality from the films covered in the last article. Instead of focusing on all the problems Rick creates because of what he is doing (like Luke or Po), the emphasis here lies in what Rick is not doing. Getting Rick to stick his neck out? That's what the whole story tries to prove is a good thing.
Fixated Fish
And that same dynamic, that same cause for growth in Rick, orbits around Marlin in Pixar's Finding Nemo. Like the saloon owner in Northern Africa, father Marlin struggles with a strict mindset: he knows what his son can and cannot do. The constant worrying and obsessing over safety? That's a fixed attitude (Mind) that creates problems personally for him and for those around him.
And what about Nemo? His one-fin handicap puts him smartly in the Universe Throughline. This impacts Marlin's attitude, shines a light on father's blind spot, and calls for certain character growth. If what Marlin believes is true, that his son can't do these things, then why on Earth can the little guy keep proving that he can? Surely one of them must be wrong...
Like Rick, it is not so much what Marlin is doing that is causing him grief, but rather what he won't open himself up to. Give that little guy some distance and look what he can do. This is how rigid opinions change their course in stories of adventure.
Off the Beaten Path
There is nothing wrong with the familiar Universe Main Character, but as you can see, a different kind of story exists where the central character finds themselves at the mercy of an opinion. Finding Nemo and Casablanca aren't exactly bargain-bin disasters; they're both masterworks of storytelling that will continue to prevail long after we're all gone.
Authors have the ability to sway opinions, to shift the attitudes of an Audience simply by the juxtaposition of perspective and problem. By providing them something not-so familiar, the knowledgeable writer engages their senses of delight and surprise. Tack on a meaningful argument, something important you want to say with your words, and the Audience will assume that message with ease and wonderment.
Advanced Story Theory for this Article
This consistent focus on what is lacking within the Main Character of these films occurs because of the location of the Main Character and Objective Story Throughlines. When they are in this vertical alignment (with the OS in Physics and the MC in Mind), the Main Character will feel as if they have a "hole in their heart."
Dramatica refers to this important structural concept as the Main Character Growth and gives two choices: Stop or Start.
With the Throughlines arranged as above, the Growth is Start. Arranged in the familiar Western culture alignment (found in the last article), the Growth is Stop. These films tell stories of Main Characters who need to Stop what it is they are doing (Stop testing yourself all the time, Luke, and Neo, stop thinking so little of yourself). Instead of a hole in their heart, these Main Characters appear as having a chip on their shoulder. Again, this reality of story structure occurs naturally because of where the Author chooses to focus their perspectives (throughlines) in a story.
Naturally Structuring a Story for Conflict
Forcing a narrative into a predetermined structure plasters a story with artificiality.
Effective stories deliver meaning to an Audience. The degree with which the structure of the story matches the thought processes going on within the receptive minds of those watching or reading shapes how cogent that message, or meaning, will be.
Communication without friction, or at least, as little friction as possible: that should be the goal of most comprehensive stories. In order to achieve this, a writer should use the Dramatica concept of the Four Throughlines. Labeled the Objective Story Throughline, Main Character Throughline, Influence Character Throughline and Relationship Story Throughline, these match the Four Perspectives through which the human mind can appreciate conflict: They, I, You, and We, respectively. Assigning these four Perspectives to the four different areas of conflict molds a story's personality.
As mentioned in the first article of this series, A Conflict Unlike Any Other, the Main Character Throughline and the Influence Character Throughline are always across from each on the Structural Chart. Having the two Throughlines across from one another creates a natural connection when it comes to dramatic growth. A fixed attitude (Mind) causing you problems? Entering into a relationship with someone defined by their situation (Universe), and you're going to have to do some growing. Thinking about things in a way that is causing you grief? Start a friendship with someone who constantly gets into trouble because of what they do (Physics), and your whole world will turn upside-down (A structural setup covered in a future article).
But is there a concrete reason as to why these two Throughlines have to be across from one another?
A Model Designed for Conflict
The deeper reason for this rule lies in the makeup of the structural chart itself: Dynamic pairs (those items diagonally across from one another) offer the best opportunity for conflict as they appear as "opposites." Faith lies across from Disbelief, Avoid from Pursuit, and Logic from Feeling. As Chris Huntley, co-creator of the Dramatica theory of story, recently said:
Yes, dynamic pairs offer the most opportunity for direct conflict. While not strictly binary, they come the closest to representing binary choices. We chose dynamic pairs as the basis for the Dramatica structure because they are a key component to linear thinking, which mirrors the bias of most American culture.
Other potential models of story might find the Main Character and Influence Character in a horizontal or vertical relationship, but they would not come close to approximating the sort of conflict found in popular American culture (i.e., Hollywood films). While it would be great for someone to explore other structural models later this century, for now the film industry--and story at large--has enough on its hands trying to make this model work. Besides, the binary conflict found in the diagonal pairs suffices for the kinds of stories Audiences crave today.
Taking The Conflict Inside
In earlier articles, we flopped the Main Character Throughline with the Influence Character Throughline in order to create a story with a different flavor. As we saw with Casablanca and Finding Nemo, this switch gave the stories a unique personality. In addition, having a Main Character struggle with Mind while the story at large centers on Physics forces the Main Character to "arc" in a different way than if the Main Character struggled with their physicality or their station in life.
But what if we returned the Main Character to that position in the Universe domain and instead flopped the Objective Story and Relationship Story Throughlines? Crafting a story where the characters struggle with how they think rather than how they act almost feels like it would be a story without interest.
Closer examination proves this assumption unstable.
Surviving the Fashion Industry
Cut-throat, inter-office politics. Backstabbing and persuasions. The fashion industry finds conflict within the subtle and not-so-subtle manipulations between those who populate it. It is not so much what the characters do in The Devil Wears Prada that creates conflict, than it is their thought processes and their maniacal desires to get to the top (or stay there).
Miranda is one of those already at the top. Everyone at worships her. Yet, it isn't her Universe that defines her. Rather it is her Mind and her belief that she always knows what is right that has the most impact on Main Character Alex. Alex's problematic situation (Universe)? Fresh out of college and defined by her lack of fashion sense, Alex must take what Miranda says seriously if the young upstart wants to be a success.
And here is where things get interesting.
Unlike the relationships between Luke and Ben or Morpheus and Neo, the relationship between Alex and Miranda centers on what each can do for the other. Miranda can jumpstart Alex's career by leaps and bounds if only the young ingenue plays the game. Running crazy errands, making difficult phone calls, and in general doing the bidding of the queen of couture, describe some of the difficult things Alex must do to keep her relationship with Miranda alive. The conflict in their relationship centers around activities, not how they think.
Now that we've switched the Main Character into Universe and the Objective Story Throughline into Psychology, that same vertical relationship found in Casablanca and Finding Nemo exists. This means (assuming you've read the article Not-So Familiar Patterns of Story Structure), that Alex has some growing to do. She lacks an essential trait that many in her similar position face: they don't realize what they already have.
A Rat for Every Season
Believe it or not, Pixar's Ratatouille shares a similar structural setup to the above fashion flick. But instead of focusing the story on what it is the Main Character lacks, Ratatouille gives us a great example of a Main Character waiting for others to finally see the light.
Like Alex and Luke and Hiccup and Neo, Remy finds conflict because of his unique Situation: he's a rat. Whether it's a gun-toting granny, aloof French chefs, or even members of his own brethren, Remy finds it difficult to live because of who he is.
Across from him sits Linguini--a sad sack who finds difficulty overcoming the Minds of those around him. He's a "garbage boy", nothing more. Areas of conflict can be an attribute of the Influence Character or, as in this case, attributed to them. Either way it doesn't matter, because in the world of story all that matters is the idea of the Influence Character, and how he or she ends up creating some sort of impact on the Main Character.
Remy has issues with prejudice because of his external appearance. Linguini has similar issues because of what others think about him (internal). The presence of one naturally forces the other to grow. This is the beauty of the Dramatica structural model: its ability to accurately assess the qualities of a great story and to give a framework for natural conflict.
Together, the two do their best to work together. The Fun and Games of a rat driving a human? Physics. Their Relationship is physical comedy, and not found in the Objective Story Throughline. Instead, the film centers the Overall part of the story on the problems created by those who think "Anyone can cook" and those who think the same. Here, it's not space battles and kung-fu fighting that becomes the center of conflict. Instead, like Prada, Ratatouille focuses on characters manipulating one another in an effort to move ahead. The way characters think creates the conflict.
Sophistication and Storytelling
Does Ratatouille feel more sophisticated than Kung Fu Panda? Certainly. The themes are more complex, the areas of conflict unique and surprising. Giving the audience what they expect is fine in some respects, but sometimes it can be helpful to turn things on their side and look at the problems and conflicts we face from a different point-of-view.
This is all the structural chart is saying. It is not dictating what to say or how to say it, it is merely giving Authors with the knowledge of what it is they are trying to say and the tools to broadcast that message. Crafting a story with this natural story structure in mind guarantees the easily delivery of the purposeful writer's meaningful agenda.
In short, it helps writers broadcast their messages loud and clear.
Exotic Story Structure Often Unexplored
Moving off the beaten path of narrative structure and into uncharted territory.
The challenge of the new. No writer wishes to repeat themselves. No writer wishes to simply rehash conflicts of old. Yet, without knowing truly what it is they are writing, many authors blindly follow the well-worn path of conflict.
In this series on Conflict, we've seen common approaches and not-so common approaches towards dealing with this important aspect of storytelling. Using the Dramatica theory of story and its comprehensive look at the four areas of conflict, we've been able to figure out why certain films feel similar and why others seem to chart their own course.
By assigning the four Throughlines of a story (Objective Story, Main Character, Influence Character and Relationship Story) to one of these problematic areas of conflict, a writer imbues a work of narrative fiction with a distinct tangible personality.
Shifting the Axis of Conflict
In earlier articles the Objective Story Throughline, or main area of conflict, confined itself to either problematic activities (Physics), or problematic ways of thinking (Psychology); in other words the characters as a whole beat themselves up physically or psychologically. While the majority of Western storytelling prefers this external or internal look at procedural conflict, stories do exist where the characters as a whole face conflicts of a static nature. Whether facing Universe or Mind, the characters in these stories find themselves faced with something stuck.
Getting that thing or things unstuck generally becomes the Goal of such a story.
Get Busy Living
In The Shawshank Redemption one would assume that Red (Morgan Freeman) is the one stuck, and by accepting the call to "Get busy livin'" he becomes unstuck. A closer look at the structural conflicts proves this incorrect.
In the hallowed halls of this sad prison, lifer Red comes to meet and befriend fresh fish Andy Dufresne (Tim Robbins). This relationship--the heart of the story--focuses on the nature of hope and if it is "a dangerous thing." Their conflicting attitudes about this issue puts the Relationship Throughline of this story in Mind. Instantly, one can sense the difference between this film and the films analyzed before. Instead of convincing one another, manipulating the other into thinking the way he or she does, the relationship now centers on two incompatible views. I think this, You think that and one of them has to change. Definitely a different feel to this kind of Relationship Throughline.
Utilizing the reasoning elaborated on within the article Naturally Structuring a Story for Conflict, this would put the Objective Story Throughline firmly in Universe. What is the problem that brings everyone in the story together? An innocent man has been unjustly accused. "I'm innocent," Andy says. Yeah, right, and so is everyone else. They're all stuck, and again, instead of fighting it out within the scope of activities or collectively backstabbing each other in a game of manipulations, here Stephen King explores the ups and downs of facing a problematic fixed situation.
Deciphering Objective and Subjective Views
Note the difference between this structural set-up and that of Star Wars, The Matrix or Finding Nemo. Instead of confining the static nature of conflicts surrounding Mind and Universe to one or two characters, a story like The Shawshank Redemption incorporates everyone into the struggle against fixation. It takes an objective view of this static area of conflict. This leaves the more process-oriented conflicts of Physics and Psychology to the subjective throughlines of Main Character and Influence Character.
Red and Andy. Who suffers from a problematic way of thinking (Psychology), and who struggles with problematic activities (Physics)? Think back to Red's meetings with the parole board. What issue does he run across? To say what you think they want you to say, to think you have to kiss up and support those who hold power of you, showcases the thinking of an institutionalized man. Red says he is a changed man because he doesn't want to rock the boat, he's saying what he thinks he needs to say. That's a character struggling with Psychology.
This puts Andy in Physics and again, yet another example of how the structural chart naturally lays out the focal points of conflict within story. Whether it's hiding from the "Sisters", dangling on the precipice of a freshly tarred roof or digging his way through miles of...stuff...Andy's conflict is all about what he does and can't do.
A Main Character Apart
How exciting and exotic is it to consider writing a story where the central character struggles with the way they go about thinking things? It is not like Kung Fu Panda or How to Train Your Dragon or Welcome to the Dollhouse where the Main Character has to overcome their physicality. And it's not like Finding Nemo or Unforgiven where that personal take on conflict focuses on a mindset that needs changing. Here you have a Main Character struggling with a dysfunctional psychology. How tantalizing!
This is perhaps the reason why so many are quick to relegate Red to a "point-of-view" character or a "second protagonist". Understanding the personal conflict of someone dealing with Universe, or Mind? That's easy, or more recognizable for most, because of the familiarity both in the sheer numbers of stories that take this approach and because of life itself. Who hasn't felt ostracized for how they look (Universe)? And who hasn't discovered they were truly wrong about something (Mind)?
But questioning the way one goes about thinking of something? It's a concept so foreign that most writers wouldn't even bother considering it.
But Stephen King did. And for his efforts, we received The Shawshank Redemption. Shakespeare as well thought it an intriguing area of conflict to explore when he wrote Hamlet. And what a priceless treasure that play has been over the years. To be or not to be? No struggle here with physicality or errant opinion. Clearly, the Prince of Denmark struggles with his own conception of himself and how best to carry out his plan--a struggle with the internal process.
An Opportunity For Something New
The Dramatica structural chart affords writers the chance to write something truly unique, something truly off the beaten path. The problem is that those who produce stories generally aren't comfortable with the new. When you consider the recent slate of films--geared more towards selling toys and building upon deep-rooted properties--the notion of diving into the intricacies of how a character thinks and the struggle to overcome deficiencies comes off unappealing, unattractive and an easy one to pass on.
But with the rise and ease of distribution of self-publishing, the chance for writers to explore this uncharted territory becomes unavoidable, a siren song among the common. Sure, one can easily write great stories of Main Characters plagued with their station in life (The King's Speech) or stuck with troubling assumptions (Up in the Air), but consider the challenge of writing something as wonderfully complex as The Shawshank Redemption or Hamlet.
The opportunity is there. The difficulty lies in writing this kind of story so well that everyone clamors for it regardless of its potential at the box office. The exotic carries with it great risk, but also great reward for those willing to push themselves.
Drawing the Audience In
The path towards empathy requires a clear Main Character personal Throughline.
Only one way to capture the attention of an audience: give them a personal look at one character's struggle with conflict. Leave this important passageway undefined and an Author risks disinterest and disdain.
In this series on Conflict, the focus has stayed on a holistic understanding of story structure. Regardless of the type of story, each throughline--Objective Story, Main Character, Influence Character and Relationship Story--received an equal and appropriate amount of attention. Yet in doing so one throughline in particular, the most important in terms of capturing the attention of an audience, managed to escape the analysis with one important aspect overlooked.
Main Characters can suffer from deficient ways of thinking, like Red in The Shawshank Redemption and Hamlet in Hamlet (as covered in Exotic Story Structure Often Unexplored). Others can face challenges with their physicality or their station in life (Wikus Van De Merwe in District 9 or Mike Flaherty in Win Win). Still other Main Characters combat difficult or troublesome attitudes (Theo in Children of Men or Amelie in Amelie ). This leaves one area of conflict unexplored: those Main Characters beset by problems of activities.
Main Characters That Do Troublesome Things
Recognizing stories where every character engages in difficult activities (Rebels vs. The Empire in Star Wars and Destroying the Ring in The Lord of the Rings) and stories where individual relationships focus on the same (Lester and Ricky in American Beauty), stories that focus the problematic activity on the most personal of throughlines take on a different personality. William Wallace in Braveheart, Woody in the first Toy Story, and Hogarth in The Iron Giant serve as excellent examples of Main Characters who face trouble because of what they do.
Characters Who Can't Help Themselves
Wallace finds conflict not in the way he appears (Universe), not in what he thinks (Mind) or even how he thinks (Psychology), but rather in the things he does (Physics). Seeking revenge on his wife's murderer, plundering English forts and stepping in where few dare to tread--Wallace creates trouble for himself because of the actions he takes.
Same with Hogarth Hughes in The Iron Giant. His sense of adventure and his natural desire to collect stray creatures (both organic and mineral) defines his character and the type of conflict the audience can expect from his personal Throughline. That optimistic drive to do? That's Hogarth through and through.
Understanding that the Influence Character's Throughline sits directly across from the Main Character on the structural chart puts the Iron Giant himself in Psychology. Locked in a constant struggle of who he is and what he should be, the Giant reflects Hogarth's adventurous spirit in his own internal quest. The two bounce off each other--one external, one internal--until the end, when the Giant must finally take that step into the external and finally take some action.
But what about those Main Characters who suffer from a lack of action?
Why Won't Anyone Play With Me?
Woody's throughline offers an excellent opportunity to expand on this idea of areas of conflict within a story. Unlike Wallace and Hogarth, it's not so much the things Woody does that creates problems for him (though he does tend to jump into things quickly, calling meetings, getting into fights, etc.), as it is the lack of someone playing with him.
An interesting facet of these areas of conflict lies in the fact that they can either be problems engaged in or problems attributed to the Throughline in question. Remember that a Main Character in the Mind corner of the structural chart can either suffer from a bad mindset (Scrooge in A Christmas Carol) or have others think badly of him (William Munny in Unforgiven). Either way satisfies the definition of a conflict stemming from problematic mindsets. Again, it is the purpose behind the throughline that is more important than its portrayal.
With Woody, an audience becomes personally familiar with the plight of someone not engaging in "playtime." This lack of activity ripens any self-esteem issues a toy could possibly have and turns the conflict with Activity on its side.
The Entirety of Conflict As Seen Closely
Whether it be a problem with who they are, what they do, how they think or what they think, the Main Character gives writers the opportunity to explore conflict on a personal level. This unique quality, separate from the story-wide problem found in the Objective Story Throughline or the relational conflict found in the Relationship Throughline, draws an audience into a story. Without this unique perspective on conflict and the struggle to resolve it, the audience sits apart from the work in question, unable to emotionally invest themselves in the events on-screen or in type.
Stories That Fail to Engage
Consider recent emotionally-bereft pieces like Captain America. This latest disaster from Marvel had the best of intentions with its dork-to-champ story, yet for some reason tossed this personal throughline aside to focus on the silly tale of a red-masked Nazi and his super-weapon. If the authors didn't want to focus Cap's story on the obvious situational conflict of a weakling with muscles (Universe), they could have at least explored what happens when a superhero goes too far. Could Steve Rogers' feelings of rejection have motivated him to seek out bullies and proactively seek revenge? Certainly, and focusing his throughline on Physics would have solved this lack of emotional connection to the film. It would have called for an Influence Character with a problematic way of thinking like Robert the Bruce or Buzz, but that's an entirely different problem! Regardless, an audience needs personal conflict in order to become engaged with a story.
Other vacant emotional tales? Fast Five. The writers didn't even try, leaving this Summer dud one boring race car sequence after the next. Transformers: Dark of the Moon? Like Captain America's hero, at least Witwicki started out with some personal turmoil. True, Sam was only looking for a job, but at least it gave the audience something! However, just like Cap, Witwicki's personal conflict was soon overshadowed by mayhem and Dutch angles.
Even Mission Impossible 4: Ghost Protocol, despite its phenomenal performance at the box office this season, failed to give audiences an emotional in to the story. Ethan Hunt's dare-doing atop the Burg Dubai was beyond exciting, yet without something personal to him for us to grab a hold of, his feats became more spectacle than meaningful. There was an effort to graft something on about his long-lost wife, but the exploration of this problem was so under-developed that the film post-Dubai dragged and plodded through its final Indian act. The fights were exciting, but without a well-defined personal conflict there was little reason to care or become emotionally invested.
Looking for Someone like Us
Is it perhaps reductive to isolate a Main Character's Throughline to only one area of conflict? Not if one understands the purpose of a throughline in defining the personality of a story. Effective stories reflect the problem-solving process of the human mind. To jump from one area to the next invites a sort of narrative schizophrenia that will only serve to confuse and frustrate the audience.
Anything is possible when it comes to art so yes, a writer could scatter the focus of a Main Character across several different arenas. Unfortunately, this sort of frenzied approach guarantees that the final product will not be something relatable except to those demented and irrational members of the audience. Audiences want stories that imitate those thought processes they are already so familiar with. The Main Character's Throughline gives them that experience of I know exactly how he feels... Anything less and that glowing exit sign becomes more of a lure than the images flickering on-screen.
Conflict of a Different Nature
Seeking internal conflict within a predominantly external medium.
In story, the forces of conflict arrange themselves in unique and natural patterns. When balanced properly, a story can deliver substance and meaning on a scale unheard of in lesser delivery mechanisms.
Beyond offering Authors insight as to why their stories might be struggling, this understanding also allows writers to infuse their work with an originality and purpose difficult to attain through mere muscle. Recognizing the most common patterns of conflict and sampling those not-so common patterns broadens the knowledge-base of those who work in narrative fiction while freeing their imagination to consider new possibilities.
The Same Old Story
Many story gurus/theorists claim a methodical approach to story structure as the best means towards creating a story of substance. Whether it be through a template of beats or a heroic journey from one world to the next, this advice aids the writer, yet never truly tells them as to why they should be adhering these ideas. Lacking a concrete explanation as to the meaning of these story points, the writer can do little more than follow along and hope for the best. More often than not, this approach leads to the same story, told in the same way, with little to no substance.
Contrast this sad result with the varied opportunities left open to writers who understand Dramatica's concept of the Four Throughlines. As we have seen throughout this series, the order or beats that a story goes through pale in comparison to the power of focusing a story's conflict on purposeful explorations of unique and connected throughlines. What there is to cover becomes far more important than hitting those beats.
With this approach, the writer can avoid the same 'ol same 'ol, allowing their muse to create with intent.
Stories of Internal Struggle
Complete stories cover external and internal conflicts simultaneously. Certain parts of a story will focus on the efforts in the physical world, while others will emphasize the struggle within. Hollywood tends to favor the external struggle found in situations and activities. Why? Visual medium, visual moments of conflict. Rarely do they venture inwards--such an act generally calls for a more ponderous medium.
In the article on exotic story structures, conversation centered around Main Characters with deficient ways of thinking. Both Red in The Shawshank Redemption and Hamlet in his self-titled play stood up as suitable candidates for this particular type of conflict. Yet in the big picture, these two stories explore different areas of conflict.
Shawshank tells the story of men consumed by an intolerable situation. Hamlet, on the other hand, tells the story of men (and a woman or two) consumed by their obsessions and the obsessions of others. Hamlet's sustained grief for his father and Claudius' call for "discretion" exemplify the kind of Objective Story-wide conflict that comes from Problematic Fixed Attitudes. Conflict exists because of what everyone thinks, not because of their particular situation. Matched with Hamlet's personal struggle over the way he thinks, this universal look at conflicting attitudes creates a story with a personality unlike any other.
Why aren't there more movies that take advantage of this unique setup?
Communicating deficient psychologies and conflicting mindsets becomes somewhat of a challenge within the sparse confines of a screenplay. Stories that share this particular story "personality"--Amadeus and The Great Gatsby to name a few--stand out in mediums where the struggle over the internal can more readily play out. Novels and plays embrace the internal with a confidence Hollywood cannot. Still, the convenience of that reality does not preclude the possibility of success. Amadeus did pretty well and continues to sit atop many of the "greatest films of all time" charts. For the adventurous and resolute screenwriter the challenge of visualizing the internal lies in wait.
The Perception of Conflict
With this final piece of the puzzle, this series on Conflict comes to an end. A comprehensive understanding of conflict and the throughlines that explore them met. Whether internal or external, state or process, every kind of inequity in the known Universe has its spot within the world of story.
But that's just it...
...known Universe.
These areas of conflict are not real. They're not tangible. They don't exist as much as they stand for our own perceptions of what we observe and sense. As Melanie Anne Phillips, co-creator of Dramatica, is always fond of quoting, "The energy that flows through a system tends to organize that system" (Buckminister Fuller)--meaning these areas of conflict are built by our own minds. Our personal operating systems call for conflict to fall down these lines. Because we create these stories, it is only natural that they reflect our own internal thought processes.
Stories are models of our own minds at work. The foundation for Dramatica sits upon this idea and instructs its every concept. It's the reason why every story written with the theory or every story that fits easily into its framework feels complete and comprehensive. As audience members, we know how we think. Stories that honor that knowledge find a special spot in our hearts and in our minds.
If our minds evolve then this structural chart will have to transform as well. But for now, its accuracy stays unparalleled.
The structural chart--these four Areas of Conflict and the Throughlines that attach to them--are not a "system" for creating Hollywood blockbusters. They are not templates or elaborate plotting machines. They are reflections of ourselves. It just so happens that those stories that reflect us the best often become the ones we honor the most--with ticket sales and gold statues.